Skin Therapy Cream (1.75oz)
Our Mānuka honey cream is a soothing savior for irritated skin.
Relief for distressed skin is here with First Honey® Mānuka honey cream that hydrates and protects dry and sore skin. A customer favorite for those struggling with eczema, rosacea, and psoriasis, this deeply nourishing eczema cream will calm, soothe and moisturize irritated skin. Infused with the highest quality medical grade Mānuka honey, harvested from our own bees in New Zealand, this eczema cream is a dermatologist -tested product to assist with irritated skin.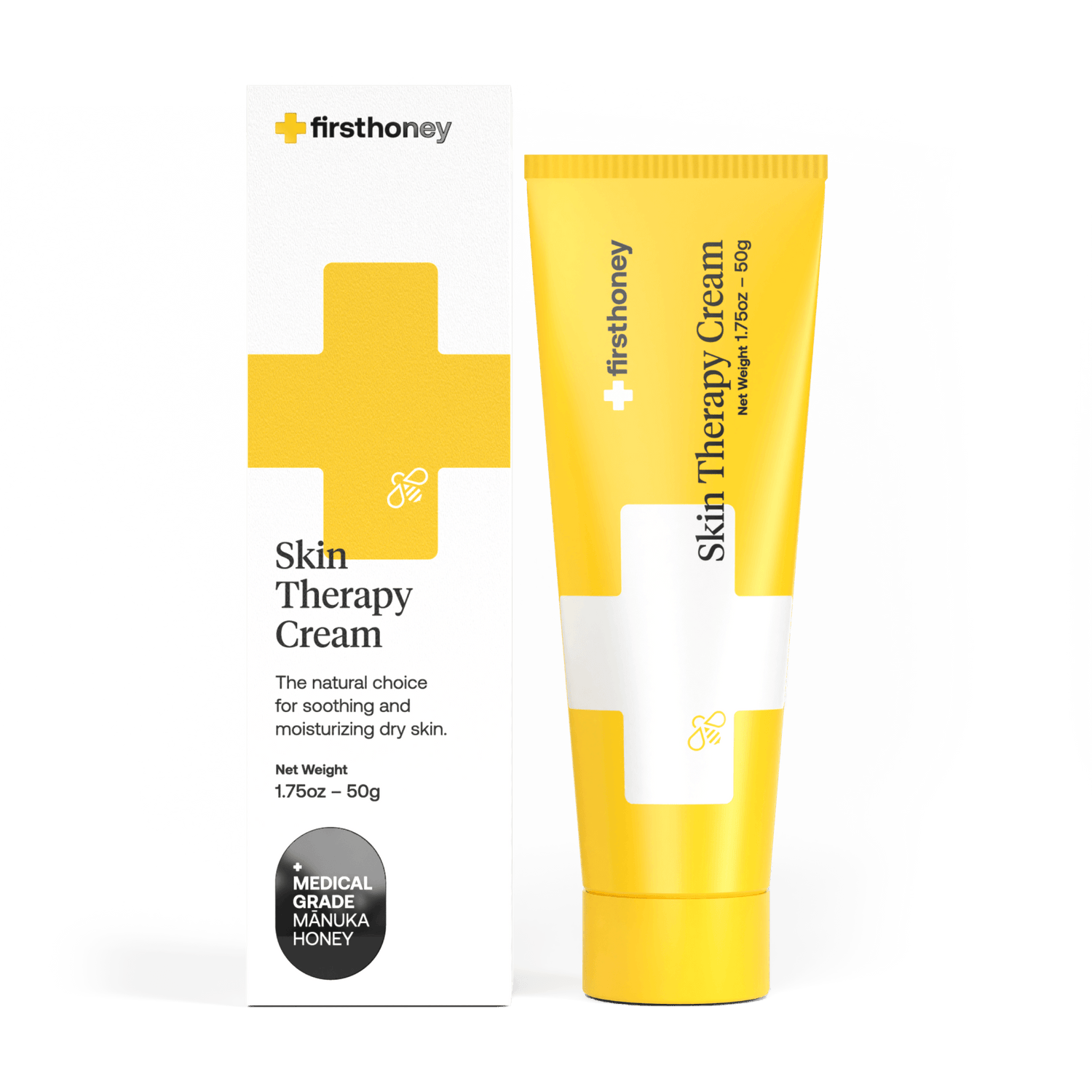 An advanced skin repair Mānuka honey cream targeting the treatment of distressed skin, First Honey® Manuka Honey Skin Therapy Cream works with the nature of your skin, not against it, to rebalance, restore and protect.
• Soothes: anti-inflammatory properties help reduce swelling, increase skin regeneration, and soothe stressed skin.
• Protects: provides protection from environmental factors by creating a moisture barrier that guards and conditions skin.
• Hydrates: strong humectant action of medical grade Mānuka honey draws moisture into the skin, while natural emollients deliver additional antioxidants.
Aqua, Mānuka Honey, Stearyl Alcohol, Coco-Caprylate, Stearic Acid, Caprylic/Capric Triglyceride, Isoamyl Laurate, Glyceryl Behenate, Tapioca Starch, Olea Europaea Fruit Oil, Cetyl Palmitate, Gluconolactone, Glyceryl Stearate Citrate, Behenyl Alcohol, Sorbitan Palmitate, Sorbitan Olivate, Butyrospermum Parkii Butter, Betaine, Natural Flavor, Xanthan Gum, Jojoba Esters, Helianthus Annuus Seed Oil, AminoMethyl Propanol, Aleurites Moluccanus Seed Oil, Sodium Benzoate, Polyglyceryl-6 Caprylate, Polyglyceryl-3 Cocoate, Polyglyceryl-6 Ricinoleate, Polyglyceryl-4 Caprate, Vanilla, Lavandula Hybrida Oil, Lavandula Angustifolia Oil, Mentha Piperita Oil, Potassium Sorbate, Glyceryl Caprylate, Caprylhydroxamic Acid, Pongamia Glabra Seed Oil, Panthenol, Glycerin, Polyglyceryl-3 Polyricinoleate, Rosmarinus Officinalis Leaf Extract, Bisabolol, Calcium Gluconate, Tocopherol.
No artificial antibiotics, parabens, sulphates, phthalates, silicon derived ingredients, synthetic filler, chemical sunscreens, mineral oils, petrochemicals (like propylene glycol), phenoxyethanol, BHA (butylated hydroxyanisole), ethanolamines and ethoxylated ingredients.
Directions for Use
First Honey® Skin Therapy Cream is a Mānuka honey eczema skin cream that naturally soothes and moisturizes irritated skin. 
Step 1: Wash your hands! This helps to avoid any infection to the affected skin area.
Step 2: Rub a dime-size amount in the skin's affected area.
Step 3: Gently massage into dry areas of the skin until only a thin protective layer forms without too much excess product.
Repeat use 1-3 times a day.
Why Mānuka Honey?
Many commonly used skincare products contain a host of harmful chemicals or synthetic additives that are detrimental to your health, even causing damage to your skin with repeated use over time. We rely on the natural, time-tested and clinically proven benefits of Mānuka honey for all of our skincare products. We're proud to offer 100% safe Mānuka honey cream that's suitable for the entire family. 
Mānuka plants have been used for their medicinal properties for thousands of years, and each part of the plant has health benefits if consumed properly. Our Mānuka honey cream is made with pure Mānuka honey, not a mixture or blend of multiple varieties. In the mid 2000's it was discovered that Mānuka honey contains high levels of an organic compound called methylglyoxal (MGO). MGO has truly incredible benefits when applied topically to the skin.
We use Mānuka honey in our eczema cream because MGO helps to properly moisturize the skin while also warding off harmful bacteria. In addition to offering humectant qualities, MGO also lowers the pH level of the skin where applied, which contributes to a better, faster healing environment.
All of this is accomplished naturally, which means that helpful bacteria that is naturally present in healthfully balanced skin biomes is not destroyed. The end result is skin that feels and looks amazing while being continually repaired and protected.  
Where Does Our Mānuka Honey Come From?
The farm where our Mānuka honey is harvested and processed is based in the beautiful countryside of New Zealand. We use several proprietary processes to ensure that our honey attains the highest quality and purity possible. This includes a practice known in the apiary industry as monofloral pollination, which means that our bees only visit Mānuka plants to create their honey. Accordingly, our honey is not contaminated with other sources that would otherwise be present. Monofloral production methods increase the potency and effectiveness of MGOs beneficial properties due to its higher concentration.
Each batch of honey we produce is analyzed by a 3rd party laboratory that holds us to the strictest ISO standards. We also never use our bees for commercial pollination or use pesticides to help preserve our Mānuka forests as these practices are known to be contributing factors in the globally declining bee population.