Is Mānuka Honey Edible?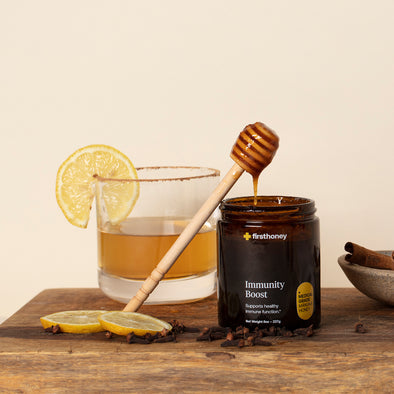 We love Mānuka honey for its natural healing properties that help us to lead healthy and vibrant lives. As a powerful holistic remedy, medical professionals assert that manuka honey can treat a myriad of health concerns. Mānuka honey treats wounds, acne, and skin conditions when applied to your body, but you may ask yourself, "Is Mānuka honey edible?" The answer is yes, as it does wonders for your insides when incorporated into your diet and wellness regime.
Is Edible Mānuka Honey Powerful?
Great question. The nutrient density of Mānuka honey is what sets it apart from other floral honey. When compared to other types of honey, Mānuka has increased enzyme levels that create a type of phytonutrients known as phenols. The result? A powerful level of nutritional properties.
When harnessed properly, Mānuka honey's nutritional properties have healing results. Mānuka honey essentially has naturally occurring chemicals that can correct gut, throat, and allergen conditions. 
What Conditions Can Mānuka Honey Help With?
Research suggests eating Mānuka honey can assist with a range of internal health conditions. Mānuka honey has been shown to help with small intestinal bacterial overgrowth often referred to as SIBO. SIBO is caused by bad bacteria growing in the small intestine. Common ailments such as stomach ulcers, sore throats, and allergies can also be helped by eating Mānuka honey. Simply mixing a teaspoon of Mānuka with lemon drops will show you how effective edible, medical-grade Mānuka honey is.
Mānuka honey is also often applauded for its ability to treat MRSA. MRSA is caused by staph bacteria that lead to staph infections. MRSA tends to be resistant to antibiotics – but not Mānuka honey. Mānuka's natural properties have been shown to be quite efficient at killing off MRSA bacteria.
How to Harness the Healing Properties of Mānuka Honey
A simple and straightforward way to see the positive impact Mānuka honey can have on your health is to add it to your diet. Thanks to its versatility, edible Mānuka honey is becoming a go-to ingredient in everyday cooking.
A few inspired ways to cook with Mānuka honey:  
As a smoothie sweetener

Drizzled over room-temperature vegetables

Stirred through a morning cup of tea or with warm milk before bed

On top of your overnight oats

As a dressing for your favorite salad
Avoid mixing it with boiling water or overly hot meals to make sure the honey is still raw when you eat it.
It's still possible to eat Mānuka honey on days when you feel less inspired in the kitchen. The recommended dose for eating Mānuka honey is two teaspoon servings per day. Simply eat a spoonful of Mānuka in the morning and evening to fully capture the health benefits.
Eating Mānuka honey is a simple and effective way to improve your health. Whether you have a specific ailment to treat or not, research suggests that finding ways to weave Mānuka into your everyday diet and wellness routine will improve your overall well being. Shop our edible Mānuka honey products today!
Read more